Intenational «DrumPower» Training 2020
Violence prevention, social integration and empowerment through music – additional qualification

For qualified music therapists with recognized professional education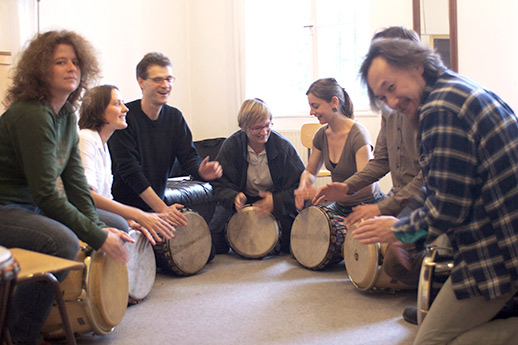 This advanced qualification for music therapists will present fundamentals of the DrumPower project – a scientifically developed method for projects with children and youth to prevent violence and promote social inclusion and selfesteem by musical and scenic improvisation. The semi-structured program, called »DrumPower«, has been evaluated in several scientific studies since 2009 and been revised and differentiated according to the studies' results. It is fully elaborated for application in schools at different levels, and modified forms for the work with refugees and in clinical contexts are under development.

The different elements of the concept will be explained theoretically and taught practically in exercises. In particular, musical and music therapeutical techniques to promote self-esteem, empathy, social inclusion and constructive conflict solving skills are the core themes of the program. On this foundation, the projects facilitate to deal – in a creative, musical and improvisatory way – with the issues of aggression and violence, and to develop own concepts of how to manage conflicts and violent situations. The projects end in a »workshop« performance, giving the participating students an opportunity to present some results of their project work.

This advanced qualification will provide the structure and working methods of the DrumPower project for the application in different types of schools. By means of self experience you will be shown how to guide and instruct a project as well as how to present different models of constructive and social-related conflict resolution. Furthermore, you will gain insights into how to deal with lack of motivation and resistance. Finally, we will focus on the transfer and effective implementation of such models in the daily lives of children.

This international training course is a pilot training program, which combines one intensive basic seminar and self-organized regional study groups for advanced training and supervision via skype to keep the costs of the training low. Therefore, only groups of music therapists (3-6 participants) who commit themselves to organizing the regional meetings can participate.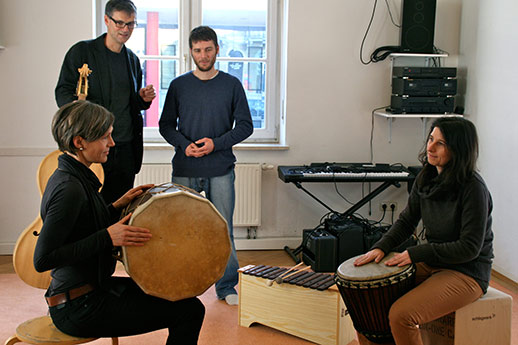 The course includes one intensive basic seminar block (36 units, one unit is 45 minutes) and four meetings in the regional study group (16 units) under supervision via skype (4 units) and a final project presentation organized in the regional study group (8 units) under supervision via skype (4 units). Additional practical work (minimum 20 units) under supervision in the study group is required after the first seminar. Having successfully accomplished all parts of the qualification, the participants will be certified as »Trainer For Violence Prevention and Social Integration Through Music«. The language of instruction is English.

For additional information please order our training curriculum.

Basic seminar Wed 08/26/20 6.30 pm – Sun 08/30/20 2.00 pm
Lecturers Dr. Andreas Wölfl and guest lectures
Venue Freies Musikzentrum, Ismaninger Str. 29, Munich
Early bird fee 735.- € (until 01/31/20)
Fee 850.- € (deadline 05/31/20)
>> Download Pdf

Only registration in groups of three or more possible (regional study group).
For groups of more than four people, the fifth is free of charge.

Booking via e-mail andreas.woelfl@t-online.de